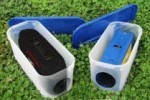 PRODUCT DESCRIPTION:      Plastic protective housing which holds either the RATICATOR PLUS or the RATICATOR MAX. In doing so, these units will be somewhat protected from local rainfall or irrigation systems. It's important to understand the Rat's Nest does not fully protect the Raticators since there is a large access hole as well as air vents. But the sensitive top of either Zapper will be protected from being hit directly with water and this is important.
WHERE TO USE IT:      Generally these are used outside but in damp, wet crawl spaces they should be employed as well. Try to set units out where mice, rats, chipmunks or squirrels have been active. Along side the house, under an overhang or any low lying tree branch are good suggestions when using them outside. And be sure to view the video below which goes over some more suggestions on where to place one as well as how to protect your Zapper even more.
RATE OF APPLICATION:    Each Rat's Nest can hold either one Classic or one Ultra Raticator.
RELATED PRODUCTS:      RATICATOR PLUS      RATICATOR RAT TALE      RATICATOR MAX      RATICATOR PLUS AND TALE KIT      RATICATOR MAX AND TALE KIT
***  THIS ITEM IS UNAVAILABLE INDEFINITELY DUE TO MANUFACTURING ISSUES ***
$20.00   (822840)(3+ $16.00 ea)
Order online and save 5%
Supporting Video
[tubepress mode="playlist" playlistValue="DDBE9BEB74BBADBD"]