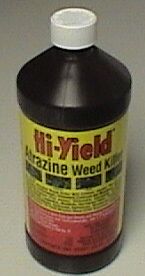 PRODUCT DESCRIPTION: Herbicide that is OK to use on both Centipede and St. Augustine. These species of grass are particularly sensitive to most herbicides but the Atrazine is one material that can be used on them safely.
WHERE TO USE IT: In season Centipede and St. Augustine. Can be used on Bermuda which is dormant but do not use it on any type of Fescue or bent grass.
RATE OF APPLICATION: 4.3 oz per gallon per 500 sq/ft of grass.
*** CANNOT BE SHIPPED OUTSIDE THE UNITED STATES ***