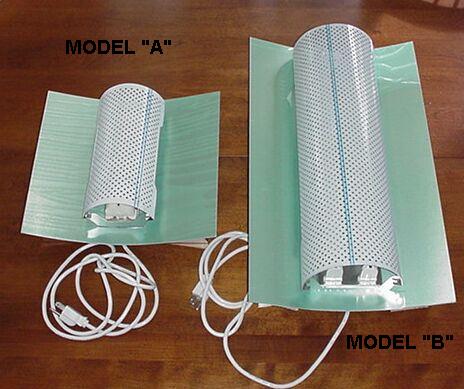 PRODUCT DESCRIPTION: Contemporary design which works well out in the open, on the wall standing upright or even hanging. This trap comes in two sizes as pictured. This is Model "A", it is 12″ long x 12″ wide x 6″ tall. It features an 18 watt bulb and a pheromone impregnated glue pad that measures 5″ x 9″. Model "B" is the true commercial design measuring 22″ long x 12″ wide x 6″ tall. It has pheromone impregnated gluepads which measure 18″ x 8″. The Satalite is both visually attractive with its contemporary design and extremely good at trapping flies with its glue pad placement.
WHERE TO USE IT: This trap can be used anywhere. Since it is visually attractive, the Satalite can be placed in dining rooms. Because it is highly effective at luring and catching all types of flying pests, it works well in the kitchen.
RATE OF APPLICATION: Model "A" will cover around 270 sq/ft. Model "B" will handle about 540 sq/ft. Glue pads should be changed once a month and bulbs should be changed once a year.
*** CANNOT BE SHIPPED OUTSIDE THE UNITED STATES ***