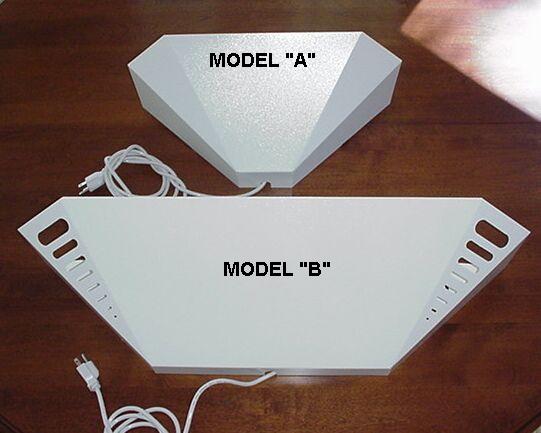 PRODUCT DESCRIPTION: This is the PL Luralite 2000 and 2001. Model A in the picture is the 2000 and Model B is the 2001. This trap uses light to attract nuisance flying pests as well as the pheromone impregnated glue pad. Once around the light bulb, they will get stuck on the glue pad. This trap features wall mounts which are both discreet and attractive. This trap is excellent for dining rooms, foyers and other areas where flies are a nuisance and the trap used must blend in with the surroundings. It will serve you by providing some dim atmosphere light as well as be a very effective tool for controlling annoying flying pests. Trap "A" (2000) is the smaller unit which is 4″ wide on the bottom, 19″ wide on top, 7″ tall and 8″ deep. The glue pad is one large board which wraps around the entire front and both sides providing a large trapping surface. The pad will remain hidden from view and the light is powered by one 18 watt bulb.The larger model "B" (2001) is more of the commercial design and measures 14″ wide on the bottom, 31″ wide on top, 8″ tall and 8″ deep. It too has a single glue pad which wraps around the entire front and both sides. It is powered by a 30 watt bulb.
WHERE TO USE IT: This trap is more for areas where people will be present and where discretion is advised. Dining rooms, kitchens, foyers and hallways are typically where this design works well.
RATE OF APPLICATION: Model "A" will cover 270 sq/ft. Model "B" will cover 540 sq/ft.
*** CANNOT BE SHIPPED OUTSIDE THE UNITED STATES ***