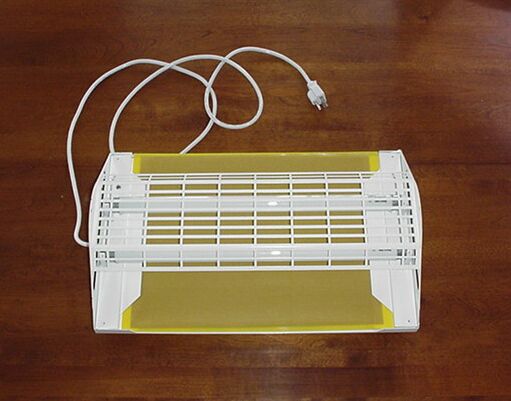 PRODUCT DESCRIPTION: Lighted Fly Trap which uses a strong attracting light bulb along with pheromone based glue pads to attract and capture nuisance flying insects. It measures 19″ long x 12″ wide by 6″ tall. Featuring two 15 watt bulbs, it can cover 860 sq/ft. The other strong point of this design is that it can be used many ways. It can be wall mounted, placed on a counter top or even in a corner. Great versatility along with the best fly trapping design make this trap the one for any business needing maximum protection in a small package. Its gluepad measures 11″ x 15″ so it has a large surface area for fly trapping.
WHERE TO USE IT: Though this trap is somewhat large for most homes, it has been utilized in such environments effectively. However, it is designed more for the warehouse, restaurant or production facility with its look and engineering.
RATE OF APPLICATION: Each trap can cover about 860 sq/ft.
$250.00   (823101)
Order online and save 5%


$50.00   (823102) glue boards 6 pack
Order online and save 5%