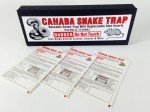 PRODUCT DESCRIPTION:   Rectangular "box" type trap made with high density plastic that will last for many years whether you use the trap inside or out in the yard. The trap measures 16 inches long by 5.5 inches wide by 2.5 inches tall. It comes with 3 glue pads and these pads should be replaced every time a snake is caught or after 3 months.
This trap will catch snakes up to 1.5 feet long is okay for use in areas where you do not expect to see a snake larger than 2 feet. Snakes can enter the trap from either side and once inside will get caught on the glue pad where they will be held steadfast until you either destroy the catch or release it from the glue and set back out into the wild. This trap will also work well for a wide range of lizards and small rodents.
Once they enter, the glue pad will securely hold them inside but its important to inspect traps daily to insure any animals caught don't injure themselves or escape.
TARGET PESTS:        SNAKES        MICE        LIZARDS
WHERE TO USE IT:     Inside or outside the home where snakes have been seen or are expected to be active (such as areas where snake skins have been found). Such areas include but are not limited to living areas, under the bed, attics, crawl spaces, basements, sheds, garages, gardens, flower beds, etc.
RATE OF APPLICATION:    1 or 2 traps per room which is suspected of having a snake. Outside in the yard traps should be set along foundation walls, fence rows, railroad ties, etc. where snakes are likely to travel. Place traps every 30 feet.
$30.00   (823332)
Order online and save 5%