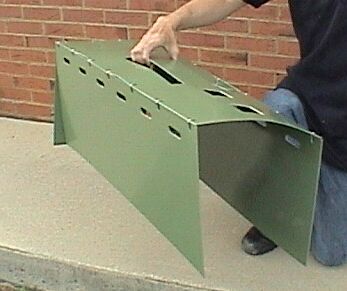 PRODUCT DESCRIPTION: 11x12x30 Comes in a Olive green and is designed to be used with the 822115, 822118, 822123, 822126, 822129 model traps. It will fit 11x12x30 and 11x12x36 inch traps with the above sku numbers. This Cover will cover 4 sides of the trap and is good for eliminating skunk spray. Animals will also be less aggressive than if they were in the trap uncovered.
WHERE TO USE IT: This would be placed over the trap in locations where animals frequent.
RATE OF APPLICATION:One cover for each trap that you would want to cover.
*** CANNOT BE SHIPPED OUTSIDE THE UNITED STATES ***