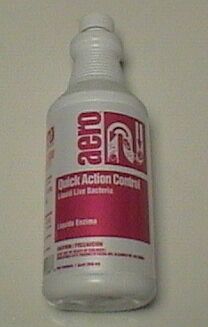 PRODUCT DESCRIPTION: A clear liquid which is sprayed where there is a pet urine or feces odor. It "eats" the odor and removes the terrible smell associated with dogs and cats when they defecate on carpets, wood floors, basements and furniture. Works on cat scenting as well.
WHERE TO USE IT: Just about anywhere a pet has gone where you want to remove the odor. Test it on sensitive fabric and surfaces ahead of time in case of a reaction.
RATE OF APPLICATION: As much as needed. Second treatment may be necessary in some cases. A quart will cover up to 200 sq/ft.
*** CANNOT BE SHIPPED OUTSIDE THE UNITED STATES ***