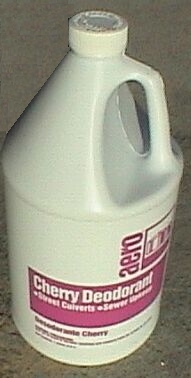 PRODUCT DESCRIPTION: Cherry colored liquid which has a strong cherry smell. It works great at masking odors. It is used in commercial bathrooms and homes to help cover up certain odors that are persistent but cannot be removed.
WHERE TO USE IT: Attics, basements, crawl spaces, walls, cars, and just about anywhere an undesirable odor is present.
RATE OF APPLICATION: As much as wanted to cover up the odor. May be reapplied as needed. You may apply the product with a pump sprayer, fogging machine or by placing some in cups which will release the odor over time.
*** CANNOT BE SHIPPED OUTSIDE THE UNITED STATES ***