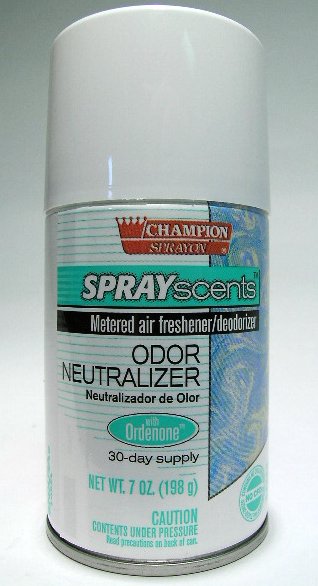 PRODUCT DESCRIPTION: Aerosol which is released into the air space and works at dismantling or breaking apart odor molecules. It will affect the strongest odors first and if the odor you are targeting is due to decaying body, urine or feces it will break them down so you won't smell it anymore. The aerosol has a slight medicine or hospital like odor which is added on purpose so that you know the can is still active. As the can runs out you will still hear the machine operate and the can spray but if you are not detecting that fresh odor you will probably need to change out the can. Each can should last about 30 days if the meter is set to release a blast every 15 minutes. Expect each can to last about 15 days if you have it set for every 7.5 minutes; 45 days if you have it set at every 25 minutes. *** REMEMBER THAT THIS IS DEALING ONLY WITH THE ODOR AND NOT THE SOURCE SO IT WILL NEVER REMOVE THE ODOR ALTOGETHER. UNTIL THE SOURCE IS REMOVED OR COMPLETELY DECAYS THE ODOR WILL CONTINUE TO ACCRUE AND MORE AEROSOL WILL BE NEEDED. HOWEVER, MANY ODORS ARE DEALT WITH QUITE SUCCESSFULLY BY THE UTILIZATION OF THE ODOR ERASER ONLY. ***
WHERE TO USE IT: In the home around pet resting or bedding areas, bathrooms, any bedroom with a strong decaying or mildew odor, closets for foot odor, crawl spaces or basements, dog houses, etc.
RATE OF APPLICATION: Each can should last 15 – 45 days depending on the setting of the Time Mist Machine. If you set it for releases every 7.5 minutes a can will only last 15 days; 15 minute intervals will enable the can to last 30 days; 25 minute intervals will enable the can to last 45 days.
*** CANNOT BE SHIPPED OUTSIDE THE UNITED STATES ***