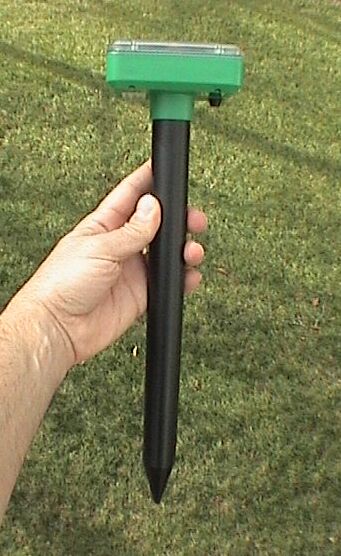 PRODUCT DESCRIPTION: Sounding device which releases an annoying sound moles, gophers, voles, chipmunks and other ground dwelling animals don't like. This sound is released on a regular basis making the local area a place where these nuisance animals won't want to live.  This design relies on the sun for power and will sound off every 30 seconds releasing a 2 second burst. The power reserve should be 5-7 days should there be any extended period of time of the sun not being visible. Though this unit does use the sun for power, it is not nearly as powerful as the battery powered unit. This unit is ideal for small areas or if you are just trying to keep digging, burrowing animals away.
WHERE TO USE IT: In the ground where nesting nuisance animals are active and not wanted.
RATE OF APPLICATION: Each device should cover up to 7,500 sq/ft (approximately 1/6 acre) but this will depend largely on the soil type where they reside. Soft loamy, sandy soil won't transmit the sound waves that well so expect only 3,000 to 4,000 sq/ft of coverage for such turf. Hard pan like clay or just really dry soil tends to carry the sound farther resulting in a larger area protected. Obstructions like cement driveways and walkways will take away from the effective coverage area and should be noted.
$35.00   (742190)
Order online and save 5%