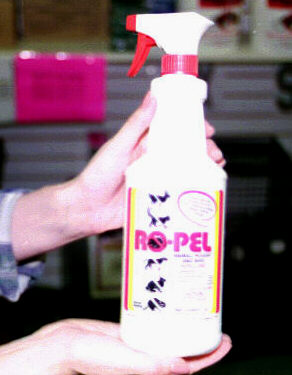 PRODUCT DESCRIPTION: An odorless spray which has a bad taste.
WHERE TO USE IT: Ropel works great on flowers, plants, wood, furniture, homes, and just about any surface or object which is subject to unwanted chewing. Use it to deter most any animal including dogs, cats, rabbit, ground hogs, squirrels, rats, deer, voles and raccoon just to name a few. It can be used inside or outside and doesn't pose a hazard to non target animals as it only tastes bad.
RATE OF APPLICATION: This is vague and not "exact". A heavy rain following a treatment would mean you probably have to treat again. However, if it does not rain for some time following a treatment you may expect the Ropel to last several weeks. In general, you treat as needed. Trace amounts of it will be detected by the target animal and they will generally look for something else to chew.
REPLACEMENT OPTION:       PEST RID SPRAY        PEST RID GRANULES

***  THIS PRODUCT HAS BEEN DISCONTINUED AND IS NO LONGER AVAILABLE  ***