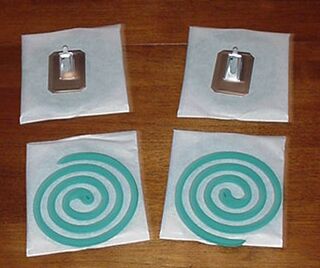 PRODUCT DESCRIPTION: Coiled clay-like material which is set on top of included stands which will serve as a biting and nuisance flying pest repellent when lit. When burning, they will release a pleasant odor to people but one that is highly repellent to pests. They will burn slowly and generally will last 2 or more hours per coil.
WHERE TO USE IT: Around decks, patios and other areas where you want to help minimize nuisance flying insects.
RATE OF APPLICATION: Try to place one every 10 feet around the area or areas you want to protect.
*** CANNOT BE SHIPPED OUTSIDE THE UNITED STATES ***