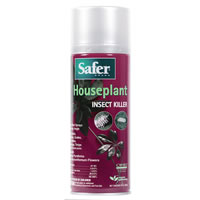 PRODUCT DESCRIPTION: Powered by compressed air, this effective aerosol sprays upside down, too, so that concealed places can be reached.
Houseplant insect killer combines the effectiveness of pyrethrins and potassium salts of fatty acids to kill on contact but does not harm your plants! The pyrethrins attack the insect's nervous system and potassium salts weaken the insect's protective outer shell, adding up to a lethal insect killing combination!
This product is OMRI Listed® and compliant for use in organic gardening pest control.
WHERE TO USE IT: Use on Houseplants: To kill aphids, spider mites, red mites, mealybugs, thrips, scales, caterpillars, and whiteflies. Apply when insects or their damage first appear. Spray to thoroughly moisten all plant surfaces where insects are feeding or resting. Repeat treatment every 7 to 10 days when insects are present as needed to prevent damage.
SHAKE BEFORE USING Hold sprayer 12 to 18 inches from surface and spray to achieve thorough coverage. Use with caution on new, tender foliage. Do not use this product in or around electrical equipment due to the possibility of shock hazard.
*** CANNOT BE  SHIPPED  OUTSIDE THE UNITED STATES ***