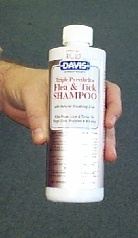 PRODUCT DESCRIPTION: Blue, concentrated, thick shampoo with aloe and other conditioners as well as pyrethrin.
WHERE TO USE IT: On pets such as dogs and cats. It is labeled for puppies and kittens over 4 weeks old.
RATE OF APPLICATION: Depends on the size of the pet. It is concentrated enough that a tablespoon will easily shampoo most 15 lb pets.
*** CANNOT BE  SHIPPED  OUTSIDE THE UNITED STATES ***