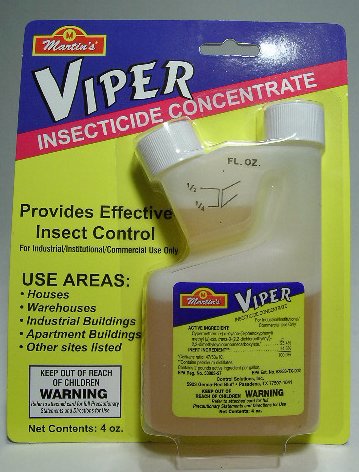 PRODUCT DESCRIPTION: Low odor concentrate which is mixed with water and has a broad inside and outside label. Works well for several pests and not only kills insects quickly but also repels them. Please note this product comes in many different sizes as listed here.
TARGET PESTS: Most insects including Ants, Bees, Boxelder Bugs, Centipedes, Chiggers, Cockroaches, Crickets, Earwigs, Elm Leaf Beetles, Firebrats, Fleas, Flies, Ladybugs, Millipedes, Mosquitoes, Pillbugs, Silverfish, Sowbugs, Bees, Cockroaches, Scorpions, Spiders, Stinkbugs, Ticks, Wasps, Wood Infesting Beetles and just about any pest found on the outside of homes.
WHERE TO USE IT: Outside or inside as needed.
RATE OF APPLICATION: 1 ounce to a gallon of water.
*** CANNOT BE  SHIPPED  OUTSIDE THE UNITED STATES ***


Supporting Video
[tubepress mode="playlist" playlistValue="DB078E1EB2609953″]