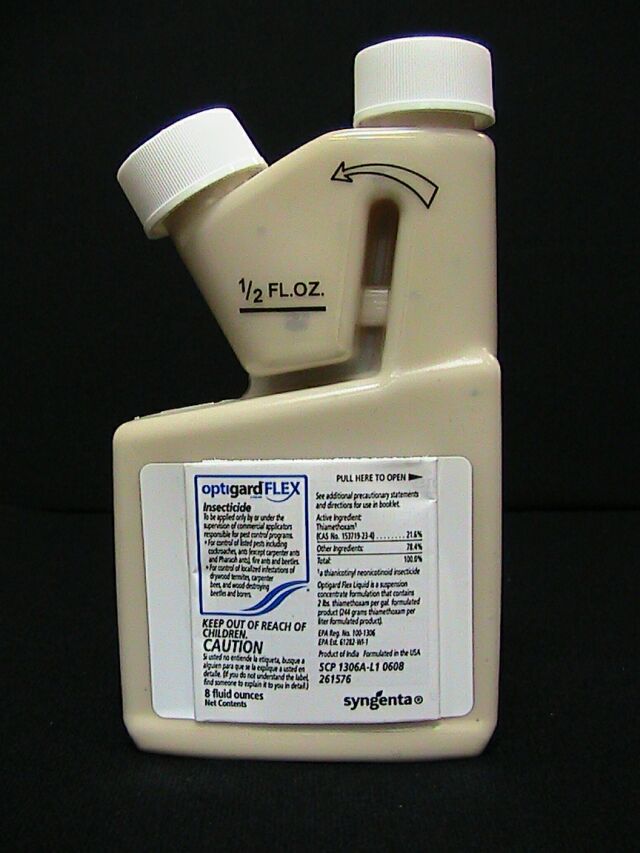 PRODUCT DESCRIPTION: Optigard flex is a non-repellent insecticide that is active against insects by both contact and ingestion. It is particularly effective against social insects such as ants but can be used to control a variety of nuisance insect pests such as cockroaches, beetles, earwigs, boxelder bugs, fire ants, etc. Optigard Flex may be applied as a perimeter band, as a spot spray, as a mound drench, and to voids to control a wide range of insects. It may also be applied to trees and shrubs to control honeydew producing insects that ants use as a primary food source. Optigard Flex offers true flexibility in treating ants and nuisance insects both in and around structures.
WHERE TO USE IT: Versatile formulation that goes where it's needed – inside or outside, as a liquid or foam.  Inside only to be used as crack and crevice or void treatment.  Not for surface application inside living spaces.  Outside: Mounds, Entry points, Eaves and Attic Vents, Along Sidewalks, Mulch, On Landscape and Ornamental Plants. Termite Monitoring Stations… See label for complete list.
RATE OF APPLICATION: .27 to .54 Fluid ounces per gallon.  Use 2 gallons per 1,000 sq ft of Application area.
*** CANNOT BE  SHIPPED  OUTSIDE THE UNITED STATES ***


Supporting Video
[tubepress mode="playlist" playlistValue="BAC1631C8525124A"]