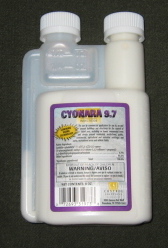 PRODUCT DESCRIPTION: Microencapsulated synthetic pyrethroid which works well for many insects. It is time released which means that one treatment will last two or more months. It has no odor and can be sprayed with a pump sprayer or a space sprayer. Comprised of tiny capsules which "release" over time, this active is very good on low crawling pest like scorpions, ants and roaches.
WHERE TO USE IT: On surfaces, cracks and crevices where targeted pests are traveling or nesting. This could include the sides of your home, up under sofits and overhangs, around any structure adjacent to the home, plants, shrubs, garage, basement, kennel, turf or garden area. In the home, use it on baseboards, around door frames, on molding and generally any surface where activity has been seen.
RATE OF APPLICATION: One gallon will treat up to 1500 sq/ft. Most homes will use 1-2 gallons per treatment.
*** CANNOT BE SHIPPED OUTSIDE THE UNITED STATES ***
Supporting Video
[tubepress mode="playlist" playlistValue="BAC1631C8525124A"]