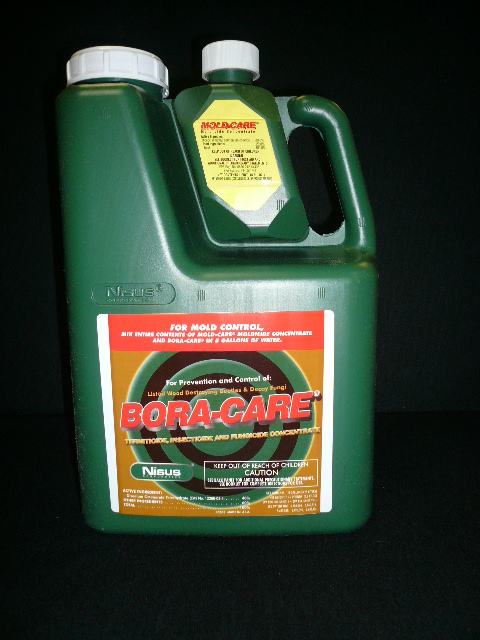 PRODUCT DESCRIPTION:Bora-Care® is a concentrate that must be diluted with clean water before use. The use of warm or hot water, if available,and an impeller-type mixer that can be used with an electric drill aids the dilution process.
Bora-Care® is an innovative termiticide, insecticide and fungicide that provides long term protection against: Brown Rot (including dry rot), White Rot, Wood Decay, Molds and Other Fungi. It kills and prevents all molds, provides residual protection and creates a buffer zone, delaying effects of major flood damage.
Bora-Care with Mold-Care is a spray-on application that is applied to wood by your pest control company. Bora-Care with Mold-Care kills existing mold and helps prevent mold from growing in the future.
Specifically designed to work with Bora-Care, Mold Care prevents the establishment of dry rot, wet rot and mold. Bora-Care adds additional residual protection against decay fungi and insect infestation. Bora-Care with Mold-Care can be applied to bare wood, plywood, particleboard, drywall and OSB. And it's the best approach you can take against mold. Bora-Care with Mold-Care is designed to penetrate wood; it doesn't just remain on the surface, but is absorbed into the interior of wood to protect it from the inside out.
WHERE TO USE: New Construction, Water Damaged Materials, Apply to whole house or high-risk areas such as kitchens, bathrooms and crawl spaces.
RATE OF APPLICATION: For mold control, mix 1 pint of Mold-CareTM Moldicide Concentrate with 1 gallon of Bora-Care® in 5 gallons of water following the procedures below:
A. Hand Sprayers: Mix in a clean container and stir the solution until completely uniform. Always mix in a separate container then add the solution to a spray tank. Mixing Bora-Care® solutions directly in a spray tank can block hoses and nozzles.
B. Hand Volume Pumping Systems: Add all of the dilution water to tank, start recirculator, then slowly add Bora-Care® and Mold-CareTM Moldicide Concentrate concentrates. Mix until uniform.
The solution will remain stable for up to 30 days. Do not leave unused solution under pressure or in tank overnight.
Clean and/or flush equipment and lines with water after use.
*** CANNOT BE SHIPPED OUTSIDE THE UNITED STATES ***


RELATED PRODUCT: BORACARE
RELATED DOCUMENTS: BORACARE/MOLDCARE LABEL
,  BORACARE/MOLDCARE MSDS
Supporting Video
[tubepress mode="playlist" playlistValue="369C8974CE2FE2C3″]