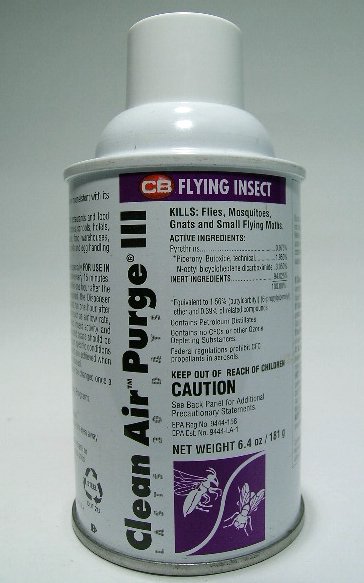 PRODUCT DESCRIPTION: CB Clean Air Purge III. The most economically effective metered pyrethrin insecticide. Kills and repels Flies, Mosquitoes, Gnats and small Flying Moths. Contains no CFCs or other ozone-depleting substances. Guaranteed effective 24 hours a day for a full 30 days.
WHERE TO USE IT: Food handling and food preparation areas of restaurants and food processing plants, stores, farms, dairies, barns, kennels, factories, schools, hotels,motels, offices, ships, planes (cargo area), supermarkets, food warehouses,bottling plants, hospitals, nursing homes, day-care centers, milk and egg handling areas of dairies and chicken houses.
RATE OF APPLICATION:  This product contains a highly effective insecticide designed especially FOR USE IN automatic dispensers. The dispenser activates the metered valve every 15 minutes.Usually the effectiveness of this product will be noticeable within one hour after the Dispenser is activated. If less than 24 hour control is required, the Dispenser should be set to start one hour before control is desired and run one hour after control is no longer needed. Keep in mind that such factors such as airflow rate, size of space treated, humidity and room temperature affect insect activity and control. Therefore, one unit per 6,000 cubic feet of unobstructed space should be considered as an average with adjustments made depending on specific conditions at usage site. As with any method of insect control, best results are achieved when sanitation and other positive insect prevention practices are followed.
*** CANNOT BE SHIPPED OUTSIDE THE UNITED STATES ***
Supporting Video
[tubepress mode="playlist" playlistValue="4364A0CC19BC59BD"]