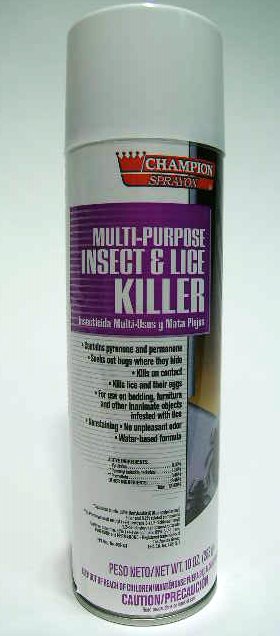 PRODUCT DESCRIPTION: Low to no odor water based aerosol which is ideal for spraying on mattresses, furniture and other fabric where insect pests like to nest and forage. When used right, it won't make fabric wet or discolor it.
TARGET PESTS: Ants, bedbugs, bees, blackf lies, blowflies, carpet beetles, centipedes, cluster flies, cockroaches, crickets, firebrats, fleas, flies, fruit flies, gnats, hornets, houseflies, lice, millipedes, mole crickets, mosquitoes, palmetto bugs, pill pugs, scorpions, silverfish, skipper flies, small flying moths, small flying moths, sow bugs, spiders, ticks, yellow jackets, wasps and water bugs.
WHERE TO USE IT: It can be used both inside and outside the home on just about any surface which has louse activity. This includes but not limited to mattresses, bedding, furniture, carpets, any kind of flooring, baseboards, shelves, cracks, behind sinks, behind cabinets, etc.
RATE OF APPLICATION: A light misting is all that is needed so each can will be able to treat 500-1000 sq/ft.
*** CANNOT BE SHIPPED OUTSIDE THE UNITED STATES ***
Supporting Video
[tubepress mode="playlist" playlistValue="4364A0CC19BC59BD"]