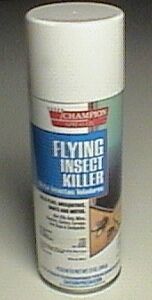 PRODUCT DESCRIPTION: Water based aerosol which is good to use for space or surface applications. It uses a new active which is very active on many types of flying insects. The water base makes it ideal for inside applications where over spray may occur. It has a different odor then Pyrethrin but it's stronger and more persistent.
TARGET PESTS: Gnats, flies, mosquitoes and other flying pests.
WHERE TO USE IT: Inside or outside as needed.
RATE OF APPLICATION: For the average room, 5-10 second amounts will provide good coverage. For outside treatments, try to identify the key plants, shrubs and other hiding or breeding locations where gnats may be hiding. Mist these areas by keeping the nozzle of the applicator within 2 feet of the target. Treat as needed; a few times a week till the problem is gone and then once a week to keep them from returning.
*** CANNOT BE SHIPPED OUTSIDE THE UNITED STATES ***