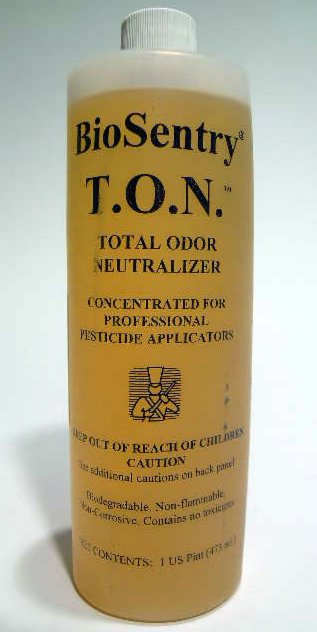 PRODUCT DESCRIPTION: T.O.N. is a termiticide/Insecticide odor neutralizer that was specifically formulated for the animal waste, offal, dead animal and other odors around the farm, industrial waste facilities and the home. It also removes odors from many termiticide and insecticide applications. T.O.N. does not cover up an odor but eliminates the odor by a chemical process called neutralization. T.O.N. reacts with the solvent and emulsifiers to deplete their odor source. T.O.N. neutralizes odors due to sulfides, mercaptans, ammonia, smoke and decomposition. It is excellent against odors due to feces, urine, decomposition, garbage and smoke.
WHERE TO USE IT: As a tank mix with an insecticide, or by itself to control many odors.  Use indoors and outdoors.
RATE OF APPLICATION: Use as little as a teaspoon for insecticide applications or full strength for strong odors such as dead animals inside of walls.
*** CANNOT BE SHIPPED OUTSIDE THE UNITED STATES ***