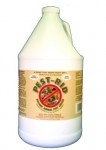 PRODUCT DESCRIPTION:      PEST-RID is a food based granular repellent which works by over loading target pests with naturally occurring essential oils. The "larger than normal" concentrate of these oils will "scare" nuisance pests by producing an odor and taste which is disagreeable to a variety of home and garden invaders (you must use the liquid PEST RID over the granules to embed the scent)
Use Pest Rid for unwanted activity from bats, chipmunks, crayfish, curly tails, deer, ducks, fleas, frogs, iguanas, geese, marmots, mice, newts, rabbits, raccoon, rats, rock chucks, scorpions, skunk, slugs, snails, snakes, squirrels, ticks, toads, voles, woodchucks and other animals.
In the yard, spread Pest Rid Granules around trees, shrubs, flowers, vegetables, walkways, docks, roof tiles, pool decks, or any other areas where control is desired.
SPECIAL NOTE:    ** THIS PRODUCT MUST BE USED WITH PEST RID SPRAY  AND WILL NOT WORK BY ITSELF  **
RATE OF APPLICATION:  Spread 1 lb per 250 sq/ft; 4 oz per 75 sq/ft. Treatments with PEST RID SPRAY alone will last around 30 days so for longer control, apply the granules (the product on this page) first and then spray over the top of the granules with the Pest Rid Spray and you will get 60+ days of control.  On a side note, these results are an "average". In extreme wet conditions, residual duration will be decreased. Conversely, during dry drought conditions, the duration of the residual will be lengthened.


PRODUCT DOCUMENTS:       SPECIMEN LABEL       MSDS SHEET


$25.00    (455450)(treats 500 sq/ft)(3+ $20.00 ea)
Order online and save 5%