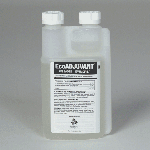 PRODUCT DESCRIPTION: ECO EXEMPT ADJUVANT SPREADER STICKER:  16 oz
These versatile products qualify as "minimum-risk" under FIFRA and are exempt from Federal EPA registration. Yet they are highly effective against a broad spectrum of insect pests and their application costs are comparable to conventional pesticides. All EcoEXEMPT products work within USDA NOP (National Organic Program) guidelines.
Improves the effectiveness, spreading and emulsification of Eco SMART concentrates and most other insecticides/herbicides.
Coverage:
.5 to 2 oz per gallon of water and mixed finished spray solution.
*** CANNOT BE SHIPPED OUTSIDE THE UNITED STATES ***