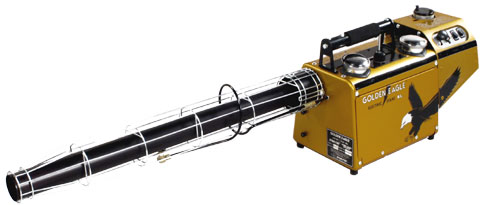 PRODUCT DESCRIPTION: Thermal or "hot" fogger which heats oil based fogging solutions for the purpose of creating a fog or mist. This mist is light – almost smoke like – and will stay suspended longer than cold space sprays. Since particle size is smaller, the material is able to cover bigger areas better due to deeper penetration and longer hang time. This unit is electric start, gasoline powered and lightweight. Though it has many adjustable features, the factory preset is generally the best way to use it and be sure to follow the cleaning procedure when emptying the tank. This insures it will operate smoothly next time you need it. Remember, this is a commercial piece of equipment and is designed for years of use.
WHERE TO USE IT: Outside around the home, farm, picnic grounds, camp areas, dumps, tire recyclers, gardens or just about anywhere noseeums are active and the need for a large fogging machine is required.
RATE OF APPLICATION: This will vary from region to region. Generally, expect to get 1/2 to 1 acre per gallon of material used. It is important to use an oil based product like the Pyrethrin based material we feature. Making your own with Permethrin and Pyrethrin mixed in the deodorized oil is also an option. Just don't use anything water based.
*** CANNOT BE SHIPPED OUTSIDE THE UNITED STATES ***