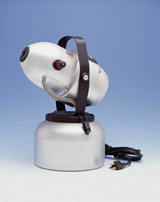 PRODUCT DESCRIPTION: Electric machine which changes liquid material into a fine mist which is so fine it is barely detectable by the human eye. ULV is a special type mist or fog which is comprised primarily of particles which are very small. These single digit micron sized particles in theory work better on flying insects and stay suspended longer than larger based aerosols which ordinary foggers produce.
WHERE TO USE IT: Inside or outside.
RATE OF APPLICATION: These machines are adjustable up to a couple of ounces a minute. However, don't expect to get any type of heavy flow as you can from our other machines. These machines are low rate applicators which make it hard to even see the material as it is dispersed since the particles are true ULV.
$600.00   (283233)(110 VOLT)
Order online and save 5%


$600.00 (283235)(240 VOLT)
Order online and save 5%