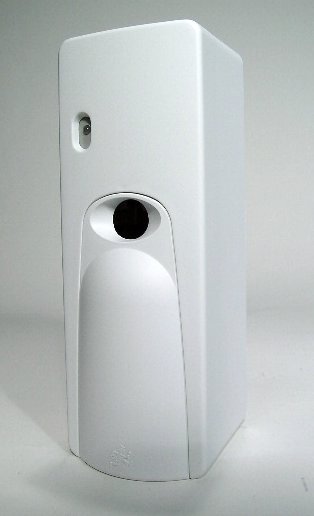 PRODUCT DESCRIPTION: These devices are all battery operated and have different controls and different setups. Look through the detailed listing of these controls listed below to determine which model will best suit your needs.  All of these machines can be used to apply either a scent based aerosol, an odor eliminating aerosol or an insecticide. The Model 1000 is the basic unit which is good for most applications where all you want is for the aerosol to be released in a consistent pattern. The Model 3000 allows you the most settings. It is clearly the most "configurable" model and can be set to skip certain days or go off as often as once a minute. The Model 2000 is in between the other two and probably the easiest to use that offers a wide range of settings. It's the only one that uses a photo sensor which gives it the unique ability to monitor light which is then used to control it's functions but it does not have nearly as much control over time guidelines like the the Model 3000.
MODEL 1000: This device is battery operated and dispenses an aerosol blast designed to either eliminate odors, help control insect infestations or release fresh smelling aromas. It has several features including a green light/red light indicator used to let you know the unit is on or that the batteries need replacement. It runs on 2 "D" cell batteries which should last several months. This unit features two switches; one is for turning the unit on or off and the other is for setting the time interval for when aerosol is released. It can be configured to go off every 7.5, every 15 or every 30 minutes.
WHERE TO USE IT: Most commonly used in rest rooms, this machine can be used on decks outside, basements, crawl spaces and just about anywhere in the home. This unit comes in real handy if you have persistent pet and/or dead decaying body odors throughout the home.
$30.00   (283155)
Order online and save 5%