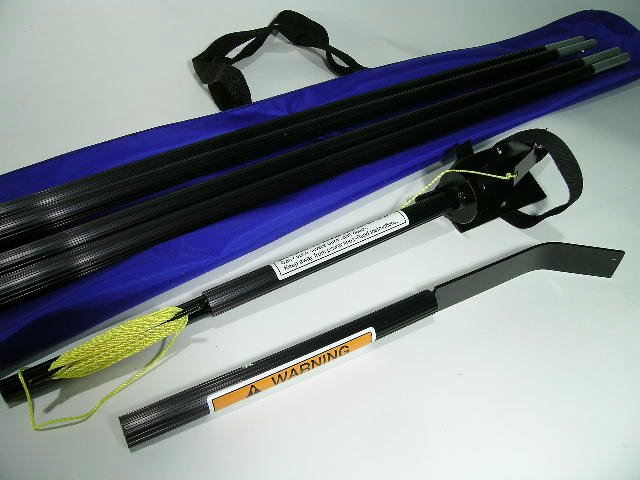 This Kit includes the Aerosol Pole (ITEM # 282264) & the Scraper Top (ITEM # 282270). when bought at the same time (ITEM # 282265) this kit sells for $170.00, you save $5.00!!
PRODUCT DESCRIPTION: Aerosol dispensing tool which comes with 4 sections – each one 4 feet long – which can be used in series for treating nests which are over 20 feet high. Extra extension poles are available for even higher reach. The top has the aerosol can holder which can be used to hold an assortment of aerosols. It is fully adjustable and locks in place so you can adjust it to work just right for any type of can. The aerosol is activated by pulling a string which hangs down and attaches to the base of the pole via an secure tie down anchor. This pole is excellent for treating wasp and bee nests but can be used to apply any type of aerosol product so it can be used for other pests as well.
IF YOU PLAN ON DOING SOME DUSTING AS WELL, CONSIDER GETTING THE DUSTICK ( ITEM # 282258).  THE DUSTICK IS USED PRIMARILY FOR DUST BUT YOU CAN GET THIS AEROSOL TOP AS AN OPTION SO THE POLE WILL BE ABLE TO APPLY BOTH DUST AND AEROSOL.
*** YOU CAN NOW GET EXTRA 4 FOOT EXTENSION POLES. EACH AND CAN ADD THAT EXTRA FEW FEET NEEDED FOR SPECIAL JOBS. PLEASE NOTE THAT ADDING EXTRA EXTENSIONS WILL MAKE THE COMPLETE UNIT MORE DIFFICULT TO HANDLE. IT IS NOT RECOMMENDED THAT MORE THEN 6 EXTENSIONS BE USED AT ANY ONE TIME THOUGH IT CAN BE DONE IF NEEDED. (IT EM # 282261)***
*** CANNOT BE SHIPPED OUTSIDE THE UNITED STATES ***


Supporting Video
[tubepress mode="playlist" playlistValue="BA4148C98455141C"]