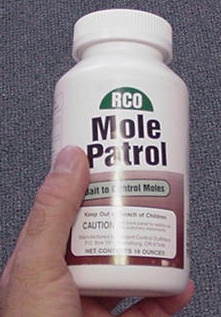 PRODUCT DESCRIPTION: Bait for moles which uses grubs and worms as attractants – primary food for moles and tastes which they love. The smell of the bait will get the always active moles to consume some. Once a lethal dose has been consumed they will die in 2-3 days.
TARGET PESTS: Moles.
WHERE TO USE IT: Every 8-10 feet down tunnels which are thought to be active. This is usually as close to the main den that you can make placements.
RATE OF APPLICATION: 1/2 lb will cover up to 5000 sq/ft in most situations but if there are a lot of tunnels to treat you may need more.
*** CANNOT BE SHIPPED OUTSIDE THE UNITED STATES ***