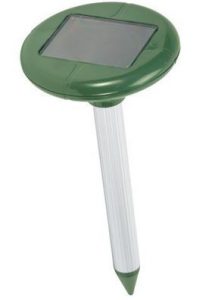 PRODUCT DESCRIPTION: Solar powered pest repeller that incorporates several features making it unique and different from every other unit on the market. First, it does the standard "vibrating" and audible sound mole repellers are known to produce. But what separates our model from all others are two more components.
The second and most important upgrade is the release of "ultra sound". This sound is not audible by people but small animals like gophers, voles, ground squirrels, snakes and even Bufo Frogs will hear it loud and clear. And they don't like it. Ultra Sound won't help for moles but for any animal that surfaces, this extra feature is important.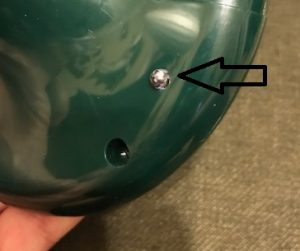 Lastly, there are two small LED lights that glow red on the bottom side of the controller head. These lights add an extra "scary" look to any small ground dwelling animal like mice, rats, snakes and more. These lights come on at night and are subtle in the landscape. Especially from our perspective being that we're well above the light bulbs. But to ground dwelling animals, these lights look like a large predator ready to attack.
REPELLER DESIGN: Each repeller is made with an aluminum body topped with a heavy gauge plastic/waterproof head. This head is the unit's controller featuring a built in solar panel and solid state motherboard.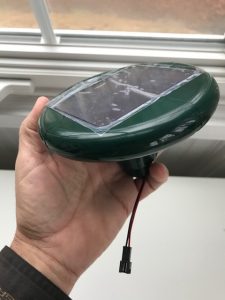 Units will work right out of the box but we suggest you let them sit in the sun for at least 2 days prior to installation. The head unit comes detached from the ground stake body so they can be laid on a window sill to collect sun easily before placing them in the yard. This will allow them to fully charge so when they're deployed, they'll have plenty of power to drive away nuisance animals immediately. The on board battery will last 2 days with no sun so if units slow or turn off, you'll need a strong day of sunlight to get them active again but they will power back up eventually. * POWER REQUIREMENTS FOR THESE UNITS IS TWICE AS MUCH COMPARED TO STANDARD MODELS SO THEY NEED TO BE POSITIONED WHERE THEY WILL RECEIVE SUNLIGHT 90% OF THE DAY OR MORE. FOR LOW LIGHT AREAS IN THE YARD, USE OUR STANDARD MODEL AS IT REQUIRES 50% LESS POWER AND VERY LITTLE LIGHT TO WORK *
TARGET PESTS: BUFO TOADS GOPHERS GROUND SQUIRRELS MOLES PRAIRIE DOGS SNAKES VOLES
HOW TO INSTALL REPELLERS IN THE YARD: Once the Controller Heads are charged, repellers are ready to be deployed.
Place repellers in the ground deep enough to bury all but 1-2″ of the stake. This will keep the head unit off the ground and away from water.
To properly install units, its advised you first use a SOIL AUGER to drill holes in the ground. DO NOT ATTEMPT TO PUSH THE REPELLER IN THE GROUND! These units are strong but not designed to handle extreme downward force.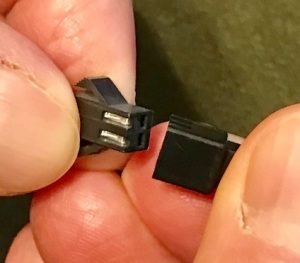 HOW TO CONNECT CONTROLLER HEAD TO STAKE: The controller head has a power cord and quick connect coupler that fits on the connector coming out of the stake. Carefully align the couplers making sure the metal pins fit together to ensure a good power connection.
WHERE TO INSTALL REPELLERS: Repellers can be used directly in mounds and dens of active animals or they can be set along property borders to keep animals from entering. When trying to repel active nesting animals, its suggested you place units in the middle of their den tunnels and let the unit go to work for at least one week before deploying more units along property borders. This will allow nesting animals an escape route and not keep them "trapped" on your land in between two units.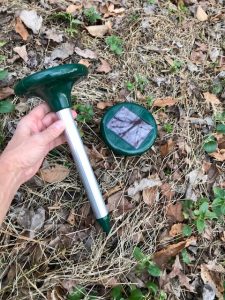 TARGET ANIMALS: Since these units incorporate audible sound, ultra sound, vibration and light to repel pests, they can be used to chase away a range of animals including but not limited to moles, voles, gophers, prairie dogs, ground squirrels, chipmunks, snakes, lizards, iguana and toxic Bufo Cane toads.
RATE OF APPLICATION: Each repeller can cover up to 6,500 sq/ft (approximately 1/6 acre) but this will depend largely on the soil type where they reside. Soft loamy, sandy soil won't transmit the sound waves as well compared to hard pan or clay. Obstructions like cement driveways and walkways will also take away from the effective coverage area and should be noted. So for soft sandy shoreline soil types, plan on getting 4,000-5,000 sq/ft of coverage per unit. For hard pan or dry clay soil regions, coverage can be 6,500-7,500 sq/ft.
When setting units out along property borders, plan on placing units 75 feet apart to ensure a strong "fence" is put in place.
DIRECTIONS: INSTALLATION DIRECTIONS (.PDF)
** WHEN USING UNITS ON ESTABLISHED GOPHER OR PRAIRIE DOG DENS, ONLY DEPLOY UNITS WHERE ANIMALS ARE ACTIVE. THIS WILL GIVE THEM TIME TO LEAVE THE AREA AND NOT BE TRAPPED BY UNITS AT YOUR LANDS BORDER. ONCE ACTIVE ANIMALS ARE GONE, SET UNITS ALONG PROPERTY LINES WHERE THEY MIGHT ENTER.
$25.00 ea (747924)(3+ $22.00 ea)
Order online and save 5%